#Polis15: mobility, sustainability and data
Returning from Brussels, I'm sitting in the train for 8 hours now and because the ICE is delayed since Stuttgart and I'm going to miss my connection train in Munich, I'll have another 3 hours* until arriving in Salzburg. I've spend most of my "train-time" wrestling with a research paper which I need to rework for resubmission. Now it's time to do something else. For example reflecting my 2 days at this year's POLIS
conference.
First things first: the conference was an awesome event at a very, very cool location. The conference organization was perfect. The same holds true for the opportunities to exchange, both face to face and in the Twitter sphere
. The mix of participants from city authorities, researchers and practitioners resulted in a stimulating atmosphere with lots of inspirations, information and examples to learn from.
The overall topic of the conference was "Innovation in Transport for Sustainable Cities and Regions". However, I'd say the conference (or to be fair, the sessions I've attended) was very much about how better data could help to better understand the complex phenomenon of urban mobility and how these insights lead to better services (not only apps!) for citizens. Right from the first session on the data topic was omnipresent: Dovile Adminaite from the ETSC
pointed to the fact that risk calculations for vulnerable road users (VRU) are still hard to do because of the absence of sound exposure data. Well, this is a topic we are working on for quite a while. And as I've learned today, a recently started H2020 project, FLOW
, deals exactly with this issue.
In a very insightful workshop session, chaired by Yannis George from the Technical University of Athens, the data issue was at the center again. Alexandre Santacreu from TfL
nicely showed how crucial the choice of exposure variables is for the interpretation of bicycle accidents. He came to the conclusion that only the distance travelled allows for sound risk calculations; inhabitants are crap, number of trips is tricky. Apart from the exposure variable Alexandre elaborated on how the level of spatial aggregation decides on the emerging risk patterns. My personal highlight in his presentation was the hexgrid map with disaggregated risk calculations for London – they reminded me of my own maps
which I've recently presented in Hannover at the ICSC
. The following presentation by Eric de Kievit (City of Amsterdam) also had a lot in common with what we have been doing
for more than five years now. He presented a Safety Performance Indicator (SPI) which is used for the assessment of road networks. As Eric said, such modelling approaches are especially valuable when the data situation (accidents, exposure variables) is suboptimal. In turn – and we spend some time discussing this issue – it is hard to validate models and calculations in the absence of sound data. Véronique Feypell from the International Transport Forum
finally presented the IRTAD database. Under the umbrella of the OECD data portal safety-relevant data are collected in a standardized way and subsequently harmonized. I'm looking forward to the updated and improved data resource!
What would be a conference these days without discussing smart cities? Actually this was the case in the opening plenary session. Commissioner Jyrki Katainen
mentioned the special role of cities as driving forces for growth and innovation. This is exactly where Commissioner Katainen linked smart cities to smart citizens who are engaged in life-long learning (to be honest, I've never connected UNIGIS
with smart cities, but maybe we should think about it …). After the welcome addresses a panel dealt with several aspects and connotations of smart cities. A recurring statement was that the wheel should not be invented multiple times and that we don't need more technology and more research, but island solutions must be fused in order to generate values. Well, I clearly see the argument, but I think we need much more research! Maybe not necessarily on technology, but definitely on the social and ethical implications of the digitalization of the human sphere!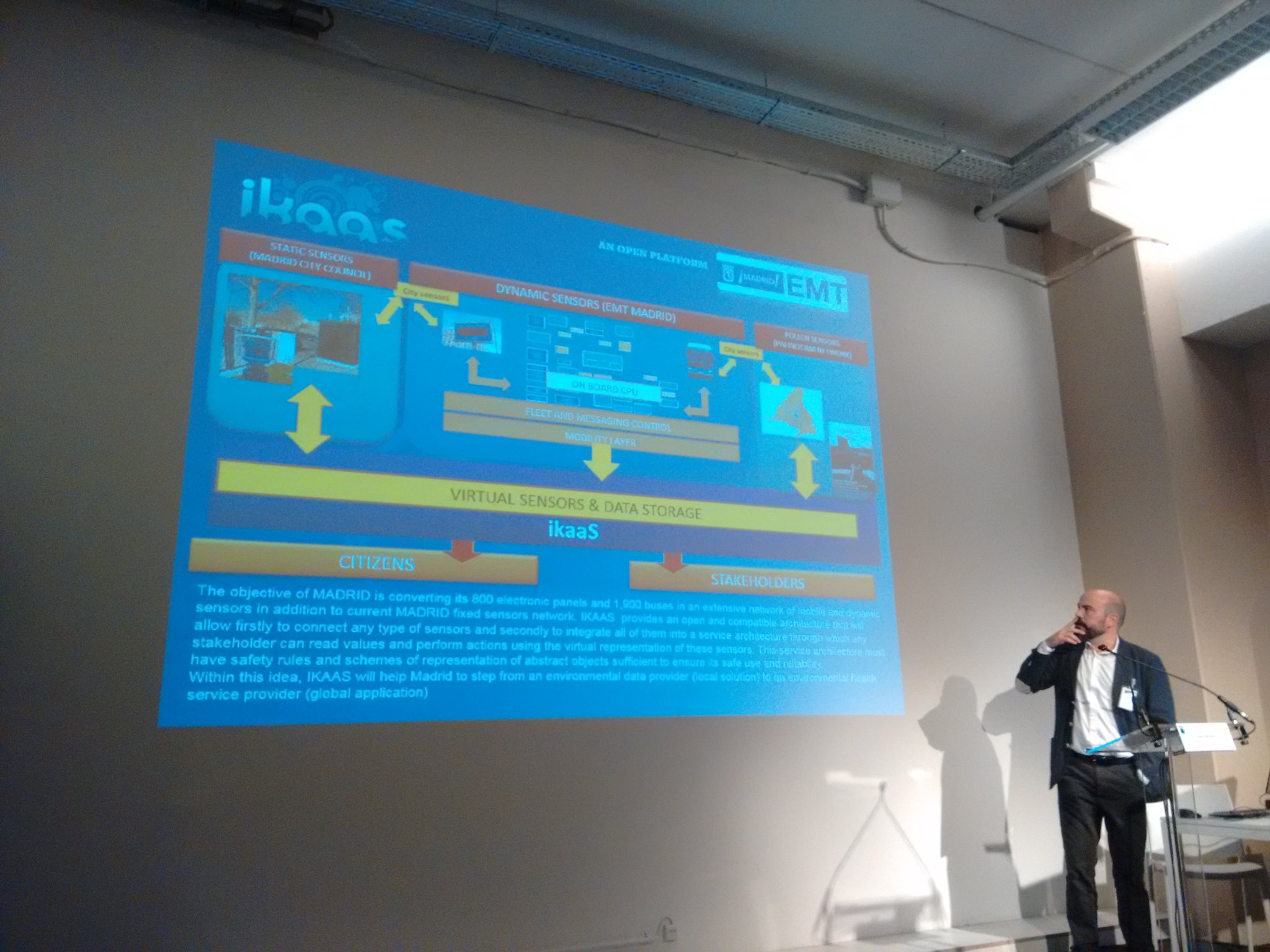 The last session of the first conference day was dedicated to data as an asset. It was opened by a brilliant contribution from Madrid. Sergio Fernandez shared EMT's
(Madrid's PT operator) experiences with a radical open data approach. They publish all generated data as open data
and currently witness how these data fuel a punch of newly developed, cool applications. The value generated by publishing data as Open (Government) Data was the take home message of my presentation which I gave in this session. In case you are interested, here are my slides:
The second conference started with a fireworks of best practice examples at the interface of ICT and active mobility. I got especially excited by the Beat my Street
project from London, which is tightly connected to the Switch Project
. The idea behind the project is rather simple, but the impact is huge. What I take home as key for a successful implementation is the move from a pure public health project (although this is exactly what it is) to a participatory, integrated community project, with fun and not health as the main promotion argument.
This project from London maybe illustrates best what became evident throughout the conference: cities and regions do have the capacity to make cities livable places and they are the driving forces for societal and technological transformations towards sustainability. But they need to have visions and the organizational and financial environment that stimulates the big leaps forward.
On a personal level, I've learned that several ideas we've been working on would perfectly correspond to past or currently running projects. Thus I can only say that I'd be more than happy if we could participate and contribute in the future. Please, don't hesitate to use the contact form, get connected on Twitter
or simply have a look at our department's website
.
[Update: I've added my Twitter timeline as a Storify dashboard
]
* While writing this blog post my last train for today got delayed for another hour – too bad!